Expecting a baby is one of life's most exciting experiences. The anticipation of the little one's arrival is filled with joy, love, and a fair share of curiosity. One question that often pops up is, "Is it a boy or a girl?" This is where gender reveal parties come in, adding an extra layer of excitement to the journey of parenthood. Let's dive into some creative and fun gender reveal ideas that can make your party unforgettable.
The Origin of Gender Reveal Parties
The First Gender Reveal Party
The concept of gender reveal parties is relatively new. It all started in 2008 when Jenna Karvunidis, a blogger, decided to cut into a cake to reveal the gender of her baby. The inside of the cake was pink, announcing to the world that she was expecting a girl. This simple yet innovative idea sparked a trend of cool gender reveal ideas that have since taken the world by storm.
The Evolution of Gender Reveals Ideas
From a simple cake cutting, baby gender reveal ideas have evolved into a plethora of creative and sometimes elaborate events. These range from releasing colored balloons to setting off fireworks, and even incorporating the theme into baby showers. The goal remains the same: to share the joy of discovering the baby's gender with loved ones.
How to Do a Gender Reveal
Organizing a gender reveal party can seem daunting, but with a little planning and creativity, it can be a fun and memorable event. Here's a step-by-step guide on how to do a gender reveal:
Step 1: Decide on the Type of Reveal
The first step is to decide on the type of reveal you want to do. This could be anything from a balloon pop, a cake cutting, a confetti cannon, or any of the unique ideas mentioned above. The reveal should reflect your personality and be something that you'll enjoy.
Step 2: Plan the Party
Once you've decided on the type of reveal, it's time to plan the party. Choose a date and venue, create a guest list, and send out invitations. You can choose a theme for the party if you like, but remember to keep the decorations gender-neutral until the big reveal.
Step 3: Arrange for the Reveal Item
Next, you'll need to arrange for the revealed item. If you're doing a balloon pop or confetti cannon, you'll need to purchase these items and have them filled with the appropriate color. If you're doing a cake reveal, you'll need to order the cake from a bakery. Make sure the person preparing the revealed item is trustworthy and can keep a secret!
Step 4: The Ultrasound Appointment
When you go for your ultrasound appointment, let the technician know that you're planning a gender reveal party. They can write down the baby's gender and put it in a sealed envelope. This way, even you can be surprised during the baby's gender reveal party!
Step 5: Hand Over the Envelope
Give the sealed envelope to the person responsible for preparing the revealed item. They'll use the information to prepare the correct color (pink for a girl, blue for a boy).
Step 6: The Big Reveal
Now comes the fun part – the big reveal! Gather your guests and perform the baby gender reveal. Enjoy the moment of surprise and celebration as you discover the gender of your baby.
Step 7: Celebrate
After the reveal, take the time to celebrate with your loved ones. Whether it's cutting the cake, popping the champagne, or simply sharing hugs and congratulations, make sure to savor this special moment.
Remember, the most important thing about a gender reveal party is to have fun and share the joy of your growing family with your loved ones. Whether you choose a simple reveal or an elaborate one, it's sure to be a memorable event.
Creative Gender Reveal Ideas
Scratch-Off Cards
For a more intimate and personal reveal, scratch-off cards are a great idea. These cards work like lottery tickets, with the gender hidden under a scratchable surface. This allows each guest to personally reveal the gender, adding a unique touch to your party.
Take a Swing
For sports enthusiasts, you can purchase special baseballs or golf balls filled with pink or blue dust. When you hit the ball, it disintegrates, revealing a burst of color.
Dart Art
Fill a water balloon with pink or blue paint, and affix it to a white canvas on an easel. Toss a dart at it to pop it, splashing the paint onto the canvas. Once it's dry, this serves as a great keepsake for your baby's nursery.
Fishing Reveal
There are special fishing lures designed for gender reveal. They pop when they hit the ground, revealing pink or blue dust. This can be a fun idea for parents who enjoy fishing.
Fog Machine Reveal
A fog machine is a safer alternative to a smoke bomb. Use one that comes equipped with lights so it can glow pink or blue paint

Dog Reveal
If you have a pet, you can involve them in the reveal. Have someone walk your dog around the corner with some blue balloons or pink balloons tied to its collar. Alternatively, you can buy a chew toy filled with blue or pink stuffing.
Gender Reveal Cake
The idea that started it all still holds a special place in many hearts. The outside of the cake is usually decorated in a gender-neutral color, while the inside is either pink or blue. The moment of cutting the cake is filled with anticipation and is a sweet way to reveal the gender.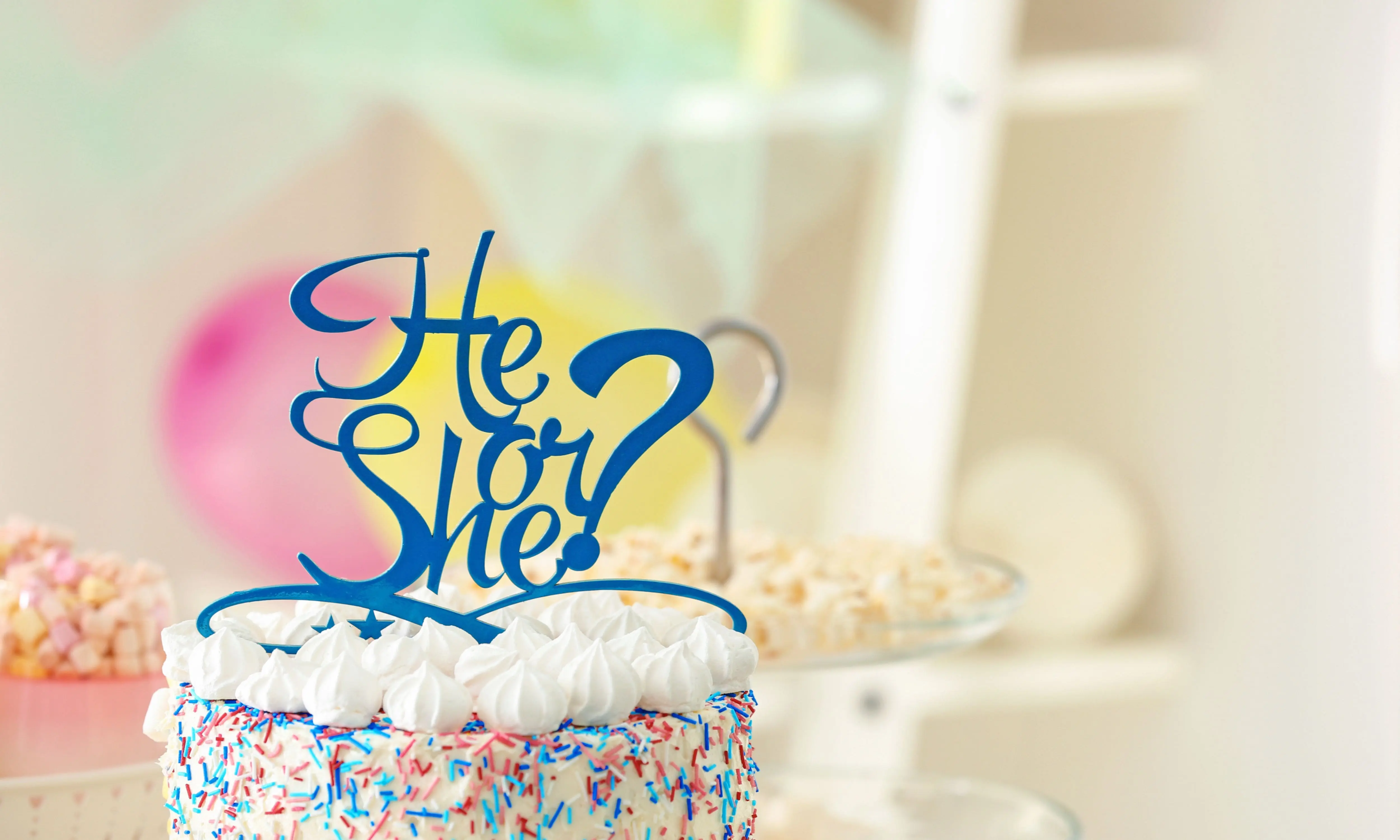 Unique Gender Reveal Ideas
Harry Potter Gender Reveal
For the Harry Potter fans out there, you can use a sorting hat to reveal the gender of your baby. Underneath the hat, place an article of clothing for a baby boy, or girl, revealing the sorting hat's "decision."
Gender Reveal Lightsabers
Star Wars fans will love this idea. If you're expecting a mini Luke Skywalker, the lightsaber will glow blue. It'll illuminate pink for a little Princess Leia.
Gender Reveal Dragon Egg
Game of Thrones fans will love this truly unique gender reveal idea. The "dragon egg" starts with black scales but changes color (to pink or blue) once heated to room temperature.
Scavenger Hunt
Set up a scavenger hunt with clues that lead to the baby's sex and the final clue — one that reveals the baby's gender. This can be a fun and engaging activity for older siblings or cousins.
Bubble Bath Reveal
You can buy bath bombs that dissolve when tossed into the water, revealing a pink or blue color. This bath bomb can be a fun and relaxing way to reveal the gender of your baby.
Special Drink Reveal
If you're having your party catered, ask the caterer to come up with a signature mocktail — either a pink drink or a blue drink. Once it's time for the reveal, have the servers come out with either the pink drink or the blue drink on their trays.

Funny Gender Reveal Ideas
Gender Reveal Silly String
Few things will bring on the LOLs like the parents-to-be covered in Silly String. This fun gender reveal idea calls for wrapping cans of Silly String with decorative paper so no one knows what color they have. Hand the cans out at your gender reveal party and let the stringing begin!
Gender Reveal Eggs
You may have seen a viral video featuring a couple with a carton full of blue- and pink-dyed eggs at their gender reveal party. Eleven of the eggs were hard-boiled; just one was raw on the inside. They smacked each colored egg until they found the raw one. Answer revealed!
Piñata Reveal
Add pink or blue balloons, goodies, and confetti to a piñata. Have guests take turns trying to break it open.
Squirt Gun Reveal
Fill water guns with pink or blue solution (all you need is water and a few drops of food coloring), then squirt each other on the count of three. Make sure you wear something you don't mind getting dye on!
Balloon Pop
One of the most popular gender reveal ideas is the balloon pop. This involves filling a large black balloon with either pink or blue confetti. When the balloon is popped, the confetti reveals the baby's gender. It's simple, fun, and offers a great photo opportunity.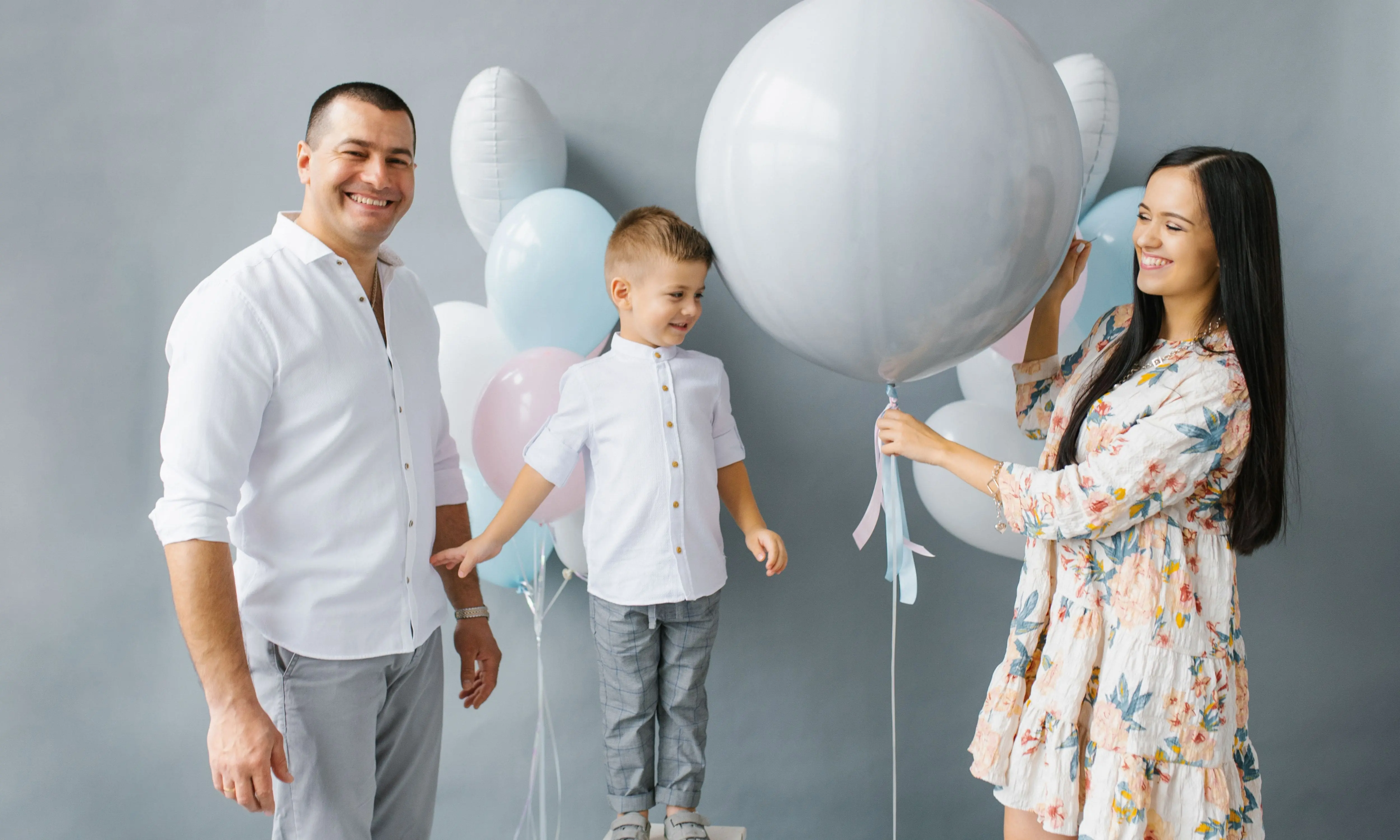 Simple Gender Reveal Ideas
Gender Reveal Punch
Here's a tasty but simple gender reveal idea. Your party guests will know what you're having once you serve them a drink—either pink lemonade or Blue Hawaiian Punch. Fun and sugary sweet!
Gender Reveal Shirts
Make your appearance at the party dressed in gender reveal shirts. We're partial to these "Team Stashes" and "Team Lashes" shirts, but any related message (or color scheme) will do. Then you can make a dramatic show of unboxing and wearing the "correct" shirt.
Confetti Cannon
For those who love a bit of drama, a confetti cannon can add a bang to your gender reveal party. Just like the balloon pop, the cannon is filled with either pink or blue confetti. When the time comes, the cannon is fired, and the confetti showers down, revealing the gender.

Safety Considerations for Gender Reveal Parties
Avoiding Fire Hazards
While it's fun to get creative with your gender reveal, it's crucial to consider safety. Some reveals, like fireworks or flare guns, can pose fire hazards. Always ensure you're in a safe environment and follow local regulations to prevent accidents.
Ensuring Physical Safety
Physical safety is another important aspect. If you're using items like confetti cannons or piñatas, make sure they're used in a way that doesn't risk injury to the guests or the expectant parents.
The Role of Social Media in Gender Reveal Parties
Sharing the Joy Online
Social media has played a significant role in the popularity of gender reveal parties. Besides being a good way to obtain gender reveal picture ideas, It allows parents-to-be to share the exciting moment with friends and family around the world. Whether it's a live video or a series of photos, social media can make your gender reveal party a global event.
The Viral Aspect of Gender Reveals
Some gender-reveal ideas have gone viral, inspiring others and contributing to the trend. While going viral should not be the goal, it's always fun to see your creative ideas appreciated by others.
Conclusion
Gender reveal parties are a fun and exciting way to share the joy of your baby's impending arrival. Whether you prefer a simple cake cutting or a dramatic confetti cannon, the most important thing is to create a moment that you and your loved ones will cherish. Remember, safety first, and let the joy of the moment be your guide.
Frequently Asked Questions
What is a gender reveal party?
A gender reveal party is an event where the gender of an expectant couple's baby is revealed to them and their guests.
Who invented the gender reveal party?
The first gender reveal party was hosted by blogger Jenna Karvunidis in 2008.
What are some popular gender reveal ideas?
Popular ideas include balloon pops, confetti cannons, gender reveal cakes, and scratch-off cards.
Are there safety concerns with gender reveal parties?
Yes, some gender reveal methods can pose safety risks, such as fire hazards or physical injuries. It's important to consider safety when planning your party.
How has social media influenced gender reveal parties?
Social media has allowed gender reveal parties to be shared with a wider audience and has contributed to the trend through the sharing of creative ideas.