Hey there, foodie moms-to-be! The big day is coming, and it's not just about onesies and nursery colors. No, siree, we're talking about the deliciousness that makes any baby shower a hit—the food! If you're brainstorming baby shower food ideas to make your bash memorable, you've come to the right place. Let's dive into a spread that's as awesome as the upcoming new arrival!
Trendy and Tasty Baby Shower Food Ideas
Ham and Cheese Sliders Recipe
Picture this: guests arriving and greeted by a tray of warm, gooey mini ham and cheese sliders. It's comfort food at its most adorable, just like the new addition to your family will be!
Ingredients:
12 mini rolls

12 slices of ham

12 pieces of cheese (Swiss or cheddar)

1/2 cup melted butter

1 tablespoon Dijon mustard

1 teaspoon poppy seeds

1 teaspoon minced onion
Instructions:
Preheat your oven to 350°F (175°C).

Slice the mini rolls and place the bottom halves in a baking dish.

Add a slice of ham and a piece of cheese to each roll.

Place the top half of the rolls on.

Mix the melted butter, Dijon mustard, poppy seeds, and minced onion in a bowl.

Drizzle the butter mixture over the rolls.

Cover with foil and bake for 12-15 minutes, until the cheese is melted.
Sweet Potato Bites Recipe
Why not offer something that's both delicious and on the healthier side? These are like tiny gifts of yumminess, seasoned to perfection.
Ingredients:
3 large sweet potatoes, sliced into 1/2-inch rounds

Olive oil

Salt and pepper

Toppings like crumbled feta and chopped chives
Instructions:
Preheat oven to 400°F (200°C).

Toss the sweet potato rounds in olive oil, salt, and pepper.

Place on a baking sheet and roast for 20 minutes or until tender.

Once done, add your desired toppings.
Summer Pasta Salad Recipe
Choose a light yet flavorful dressing, toss in some colorful veggies, and have a dish with everyone returning for seconds in your baby shower brunch.
Ingredients:
12 oz pasta (bow-tie or fusilli work great)

1 cup cherry tomatoes, halved

1 cucumber, diced

1/4 cup feta cheese, crumbled

1/4 cup olive oil

2 tablespoons lemon juice

Salt and pepper to taste
Instructions:
Cook pasta according to package directions.

Mix the cooked pasta, cherry tomatoes, cucumber, and feta in a large bowl.

Whisk together olive oil, lemon juice, salt, and pepper in a small bowl.

Pour the dressing over the pasta mix and toss to combine.
Deviled Eggs Recipe
The classic deviled egg gets a baby shower makeover with toppings like chives, smoked salmon, or paprika. They're like the little black dress of appetizers—always in style.
Ingredients:
12 eggs

1/2 cup mayonnaise

1 tablespoon mustard

Optional toppings: chives, smoked salmon, paprika
Instructions:
Hard-boil the eggs and peel them.

Cut the eggs in half and remove the yolks.

Mix yolks, mayonnaise, and mustard in a bowl.

Spoon or pipe the mixture back into the egg halves.

Add your chosen toppings.
Bacon Jalapeno Poppers Recipe
Kick things up a notch with these spicy, bacon-wrapped treats. They'll disappear from the table faster than you can say, "Diaper change!".
Ingredients:
12 jalapenos, halved and seeded

8 oz cream cheese, softened

12 slices of bacon, cut in half

Toothpicks
Instructions:
Preheat your oven to 400°F (200°C).

Fill the jalapeno halves with cream cheese.

Wrap each jalapeno half with a bacon slice, securing it with a toothpick.

Bake for 20-25 minutes, until the bacon is crispy.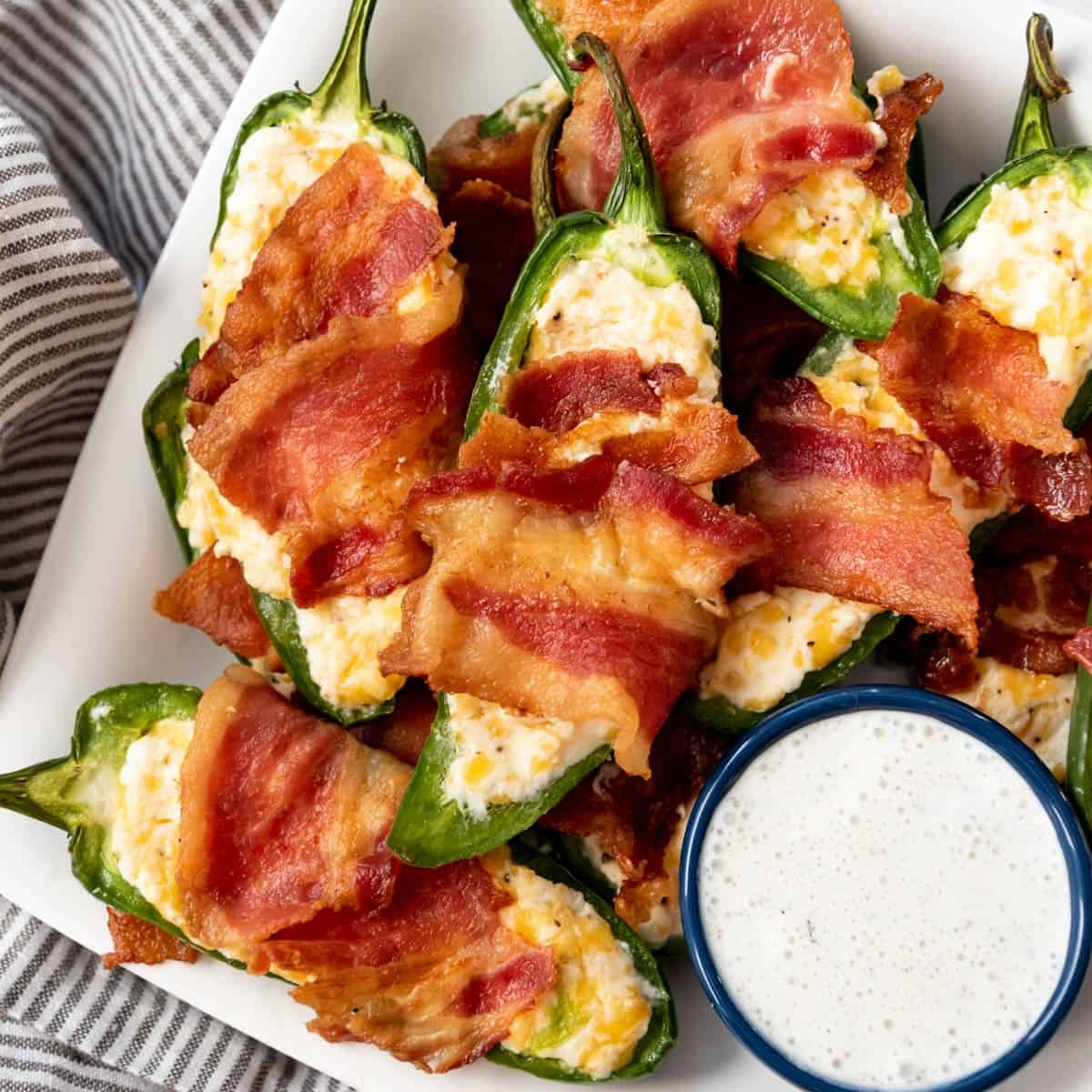 Grape Jelly Meatballs Recipe
It is a classic party pleaser with a sweet twist. Serve them in a slow cooker to keep them warm all party long.
Ingredients:
1 lb frozen meatballs

1 cup grape jelly

1 cup BBQ sauce
Instructions:
Place frozen meatballs in a slow cooker.

Mix grape jelly and BBQ sauce and pour over the meatballs.

Cook on low for 4-5 hours, stirring occasionally.
Vegetable Chili Recipe
Offer something hearty and warm with a vegetable chili. It's especially great if your baby shower is a fall or winter affair.
Ingredients:
1 can black beans, drained

1 can of kidney beans, drained

2 cans diced tomatoes

1 onion, diced

1 bell pepper, diced

2 cloves garlic, minced

1 tablespoon olive oil

2 tablespoons chili powder

1 teaspoon cumin
Instructions:
In a pot, sauté onion, bell pepper, and garlic in olive oil until softened.

Add the rest of the ingredients and simmer for 30 minutes.
Fruit on a Skewer Recipe
Fresh, colorful, and fun! Have a variety of fruits to please all taste buds
Ingredients:
Assorted fruits (strawberries, grapes, melon, etc.)

Skewers
Instructions:
Thread the pieces of fruit onto the skewers.

Serve chilled.
Mini Mac and Cheese Bites Recipe
Remember the mac and cheese from your childhood? Now imagine it as a finger food that's just as gooey and savory.
Ingredients:
8 oz elbow macaroni

2 cups shredded cheddar cheese

1 cup milk

1 egg

Mini muffin tins
Instructions:
Cook macaroni, drain, and set aside.

In a bowl, mix macaroni, cheese, milk, and egg.

Spoon mixture into greased mini muffin tins.

Bake at 400°F (200°C) for 12-15 minutes.
Spring Rolls Recipe
For those looking for lighter fare, spring rolls are a fantastic option. Fresh veggies and perhaps some shrimp or chicken rolled up in a delicate wrapper.
Ingredients:
Rice paper wrappers

Assorted veggies (lettuce, carrots, bell peppers)

Optional: shrimp or chicken

Dipping sauce of choice
Instructions:
Soak rice paper in warm water until soft.

Lay flat and place some veggies and optional protein in the center.

Roll it up tightly, folding in the sides as you go.
Baby Shower Dessert Table
Chocolate-Dipped Waffle Cones Recipe
Fill these bad boys with your favorite fruits or even mini marshmallows. The possibilities are endless!
Ingredients:
Waffle cones

1 cup chocolate chips

Toppings like mini marshmallows, fruits, or sprinkles
Instructions:
Melt chocolate chips in a microwave-safe bowl, stirring every 30 seconds until smooth.

Dip the rim of each waffle cone into the melted chocolate.

Add your desired toppings.

Allow to cool and harden.
Gluten-Free Chocolate Mint Brownies Recipe
Because dietary restrictions shouldn't mean missing out on the fun.
Ingredients:
1 box gluten-free brownie mix

1 teaspoon mint extract

Green food coloring (optional)
Instructions:
Prepare brownie mix according to package instructions.

Add mint extract (and food coloring) to the batter.

Bake as directed and let cool before cutting.
Baby Shower Cookies Recipe
Personalized cookies can serve double duty as a tasty treat and a memorable party favor.
Ingredients:
Sugar cookie dough

Icing in various colors

Cookie cutters in baby-themed shapes (like onesies, bottles, etc.)
Instructions:
Roll out cookie dough and cut shapes.

Bake according to package instructions.

Once cooled, decorate with icing.
Colorful Chocolate-Covered Strawberries Recipe
Simple, classy, and oh-so-delicious.
Ingredients:
Fresh strawberries

White and dark chocolate

Food coloring
Instructions:
Melt chocolate in separate bowls.

Add food coloring to the white chocolate for multiple colors.

Dip strawberries and let harden on a parchment-lined tray.
Honey Jars as Party Favors
Consider filling mini jars with honey and adding a cute tag like "Meant to Bee" or "Sweet as Can Bee." It's a favor that's sweet in more ways than one!
Baby Shower Cake Ideas
Whether you're going for cute animals, a floral paradise, or an alphabet-block theme, your cake should be a centerpiece that complements your baby shower décor. Consider going for a tiered cake with different flavors or a cake shaped like a baby carriage!
Tips for Planning Your Baby Shower Food Menu
When diving into baby shower food ideas, the first thing to remember is seasonality. Opt for ingredients that are in season; they're fresher and tastier. It's a win-win. You get to serve lip-smacking food while also being eco-conscious. Next up, remember to consider your guests' dietary needs. A quick RSVP check for allergies or dietary restrictions will ensure everyone can dig in without worry.
The second key aspect to nail is practicality and variety. Choose foods that are easy to eat with one hand or even as finger food—after all, your guests will be busy catching up, playing games, and showering you with love and gifts. A well-balanced menu featuring both savory and sweet options will make sure there's something for everyone. This way, all your guests go home with a full belly and a heart full of baby shower memories.
More Ideas for Baby Showers
For a twist, why not add:
Hand Sanitizer Labels: Personalize small hand sanitizer bottles with cute labels that match your theme.

Individual Charcuterie Cups: So elegant and perfect for socially-distanced mingling.

Ask Guests to Bring Food or Drinks: It makes for a communal, cozy atmosphere and lightens the load for the host!

Bottle Opener: Opt for baby-themed bottle openers as fun, valuable favors.
Conclusion
So there you have it, ladies! A menu that's just as exciting as all the other plans you've got brewing for the little one on the way. Whether it's zesty poppers or classic deviled eggs, the right food can make your baby shower unforgettable.
What do you think? I'd love to hear your baby shower food ideas or what dishes were a hit at your party! Please share your thoughts, and let's keep this yummy conversation going.