As you eagerly anticipate the arrival of your little bundle of joy, there's a special, heartwarming way to share the excitement with your nearest and dearest: a Baby Gender Reveal Party.
This isn't just any party; it's a vibrant celebration of life, love, and the little surprises that make parenting so extraordinary. Whether you dream of an intimate family gathering or a grand festivity with friends, our creative and easy-to-implement gender reveal ideas will ensure your party is as unique and wonderful as the journey you're embarking on.
Let's make this reveal one for the books, filled with laughter, joy, and memories that will warm your heart for years!
What Makes a Gender Reveal Party Special?
Big congrats on your little one! Are you excited to share your baby's gender in a way that's as one-of-a-kind as your growing family? You've hit the jackpot. A baby gender reveal party isn't just about spilling the beans; it's a heartwarming celebration of new beginnings, gathering your favorite people, and an unforgettable chapter in your parenting story.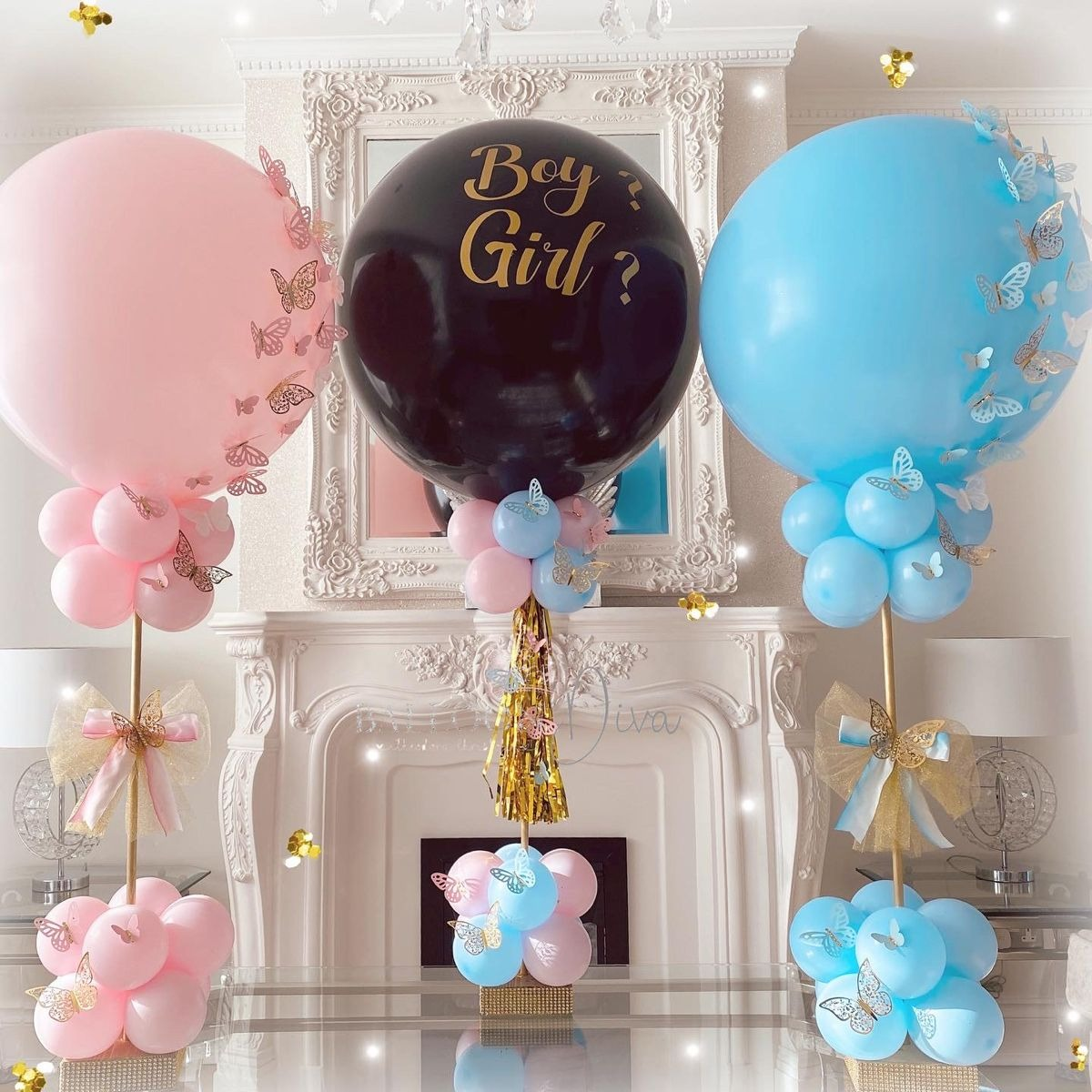 How Can You Make Your Gender Reveal Party Stand Out?
1. Confetti Balloons 
Start the celebration with a burst of color! Fill giant black balloons with pink or blue confetti. When it's showtime, pop the balloon and let the confetti rain down, revealing the gender of your baby in a shower of joy.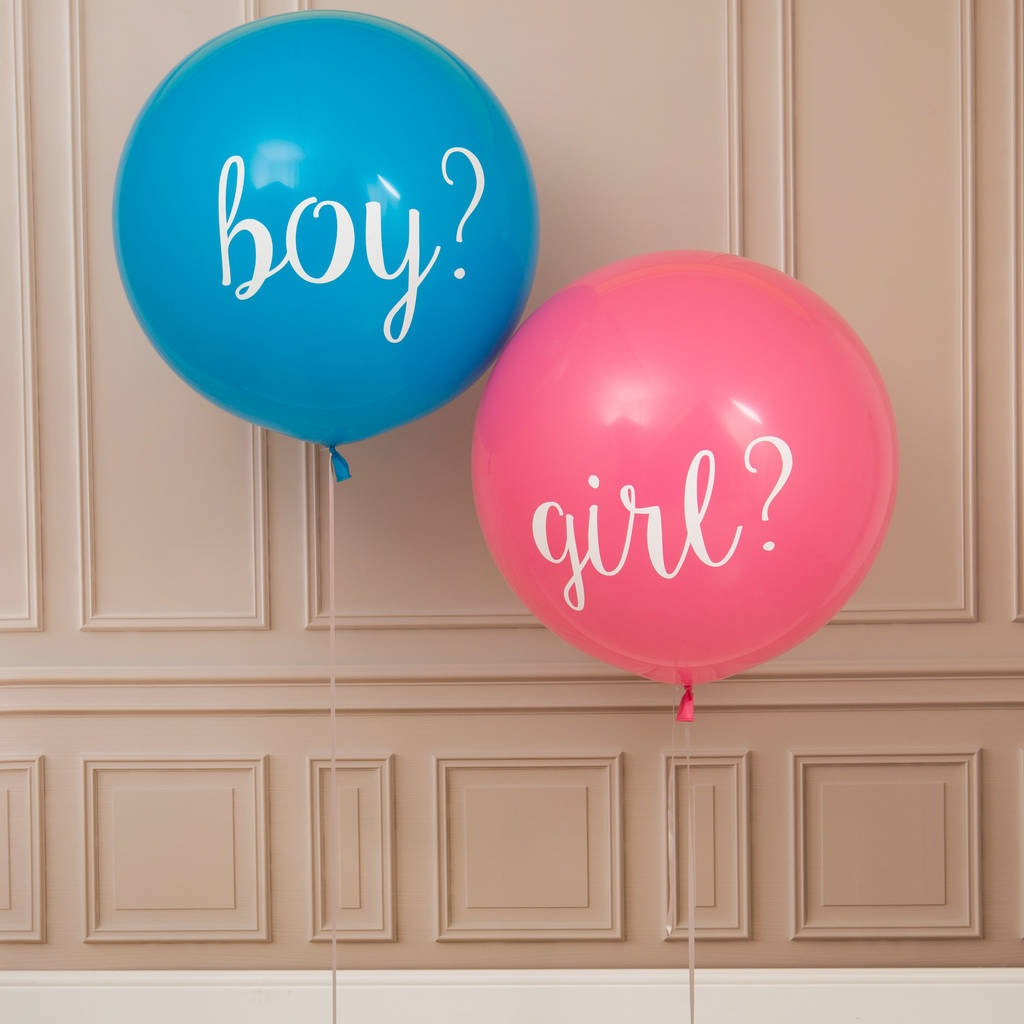 2. Silly String Showdown
Hand out cans of silly string to your guests, but keep the colors a secret. Everyone sprays the silly string on cue, and the air fills with pink or blue, creating a playful atmosphere and a perfect photo opportunity.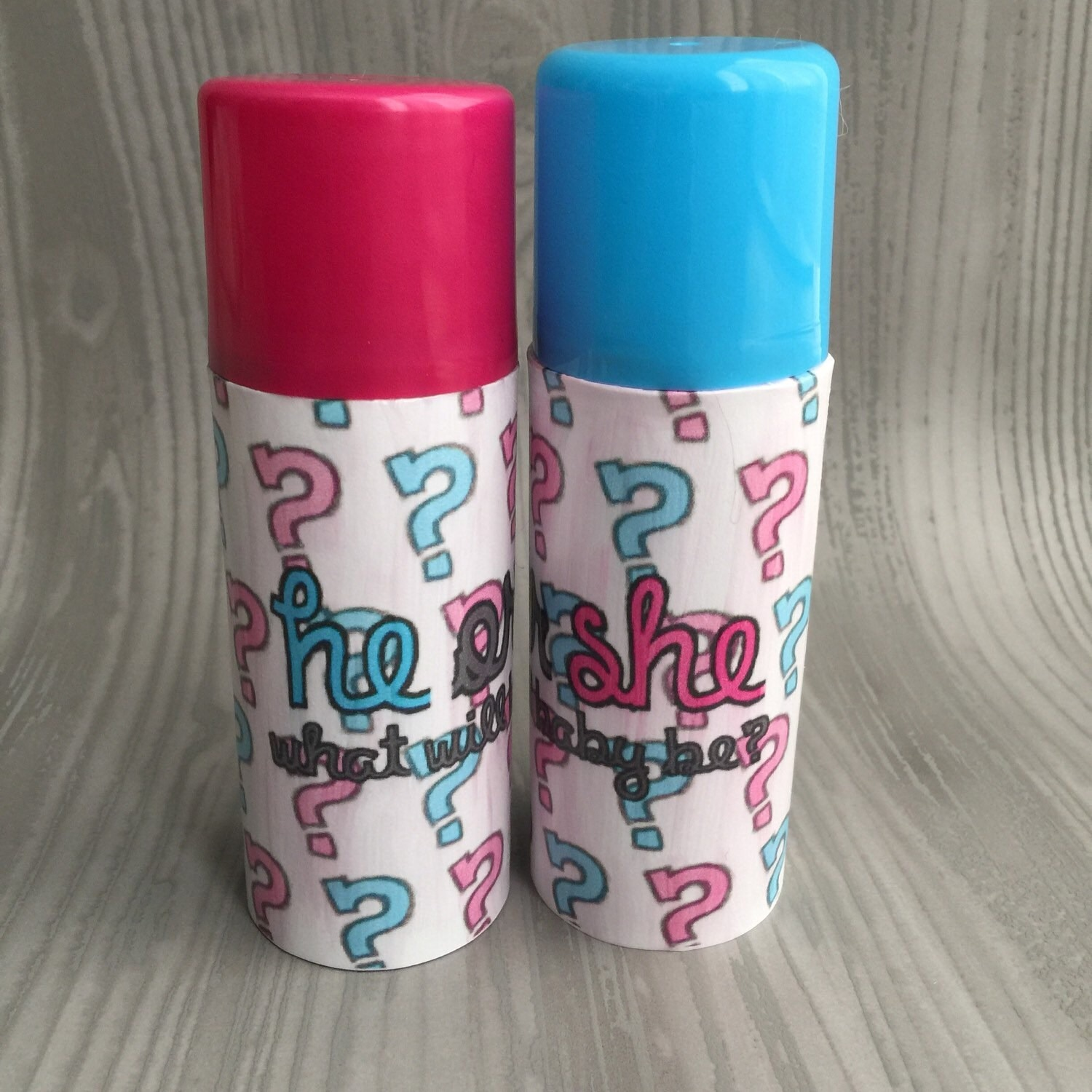 3. Cake with a Secret 
Everyone loves cake, but a cake with a hidden color inside takes the excitement up a notch. Whether it's a professionally made cake or a homemade delight, the moment you cut into it to reveal pink or blue frosting will be unforgettable. What do you think about this gender reveal idea?
4. Piñata Cookies
These adorable onesie-shaped cookies are delicious, practically a must in gender reveal parties, and comes with a surprise. Filled with either blue or pink candies, they're a sweet way to share your big news.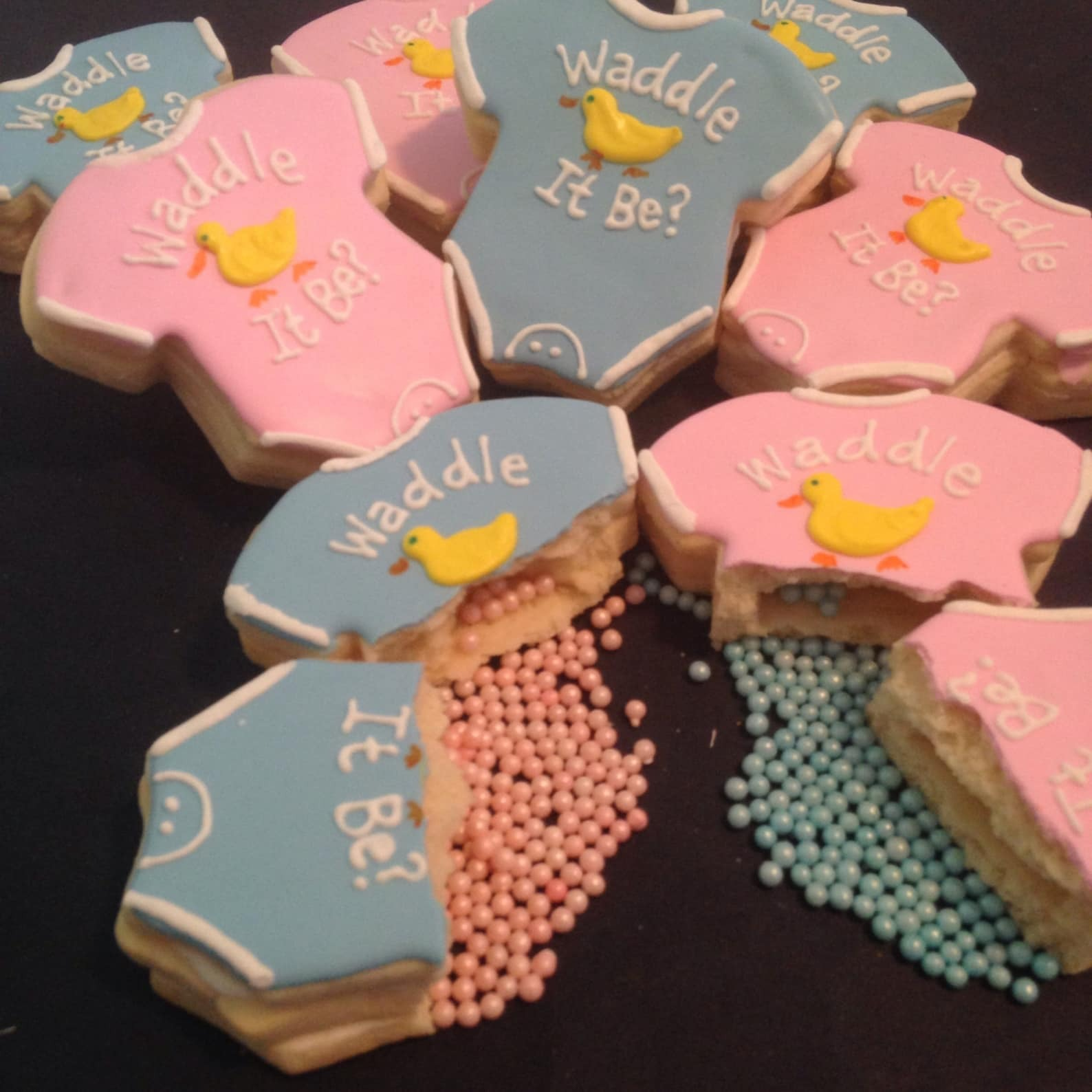 5. Volcanic Eruption of Joy 
Looking for a creative gender idea? For a truly dramatic reveal, create a DIY volcano that erupts with colored lava (a few drops of food coloring works). It's a fun, educational, and unique way to announce your baby's gender.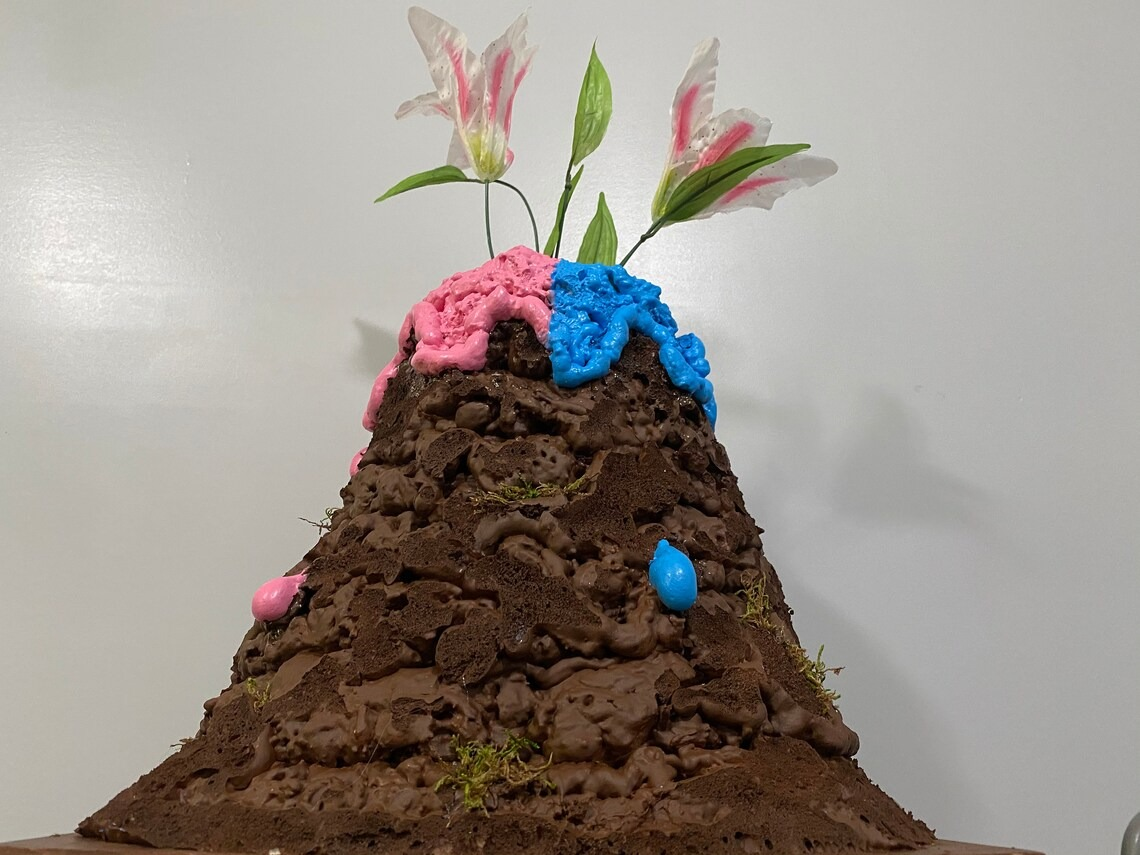 6. Smoke Powder Cannons 
Make your reveal as grand as a movie finale with smoke-powder cannons. As the cannons release pink or blue smoke plumes, your guests will be wrapped in the big reveal.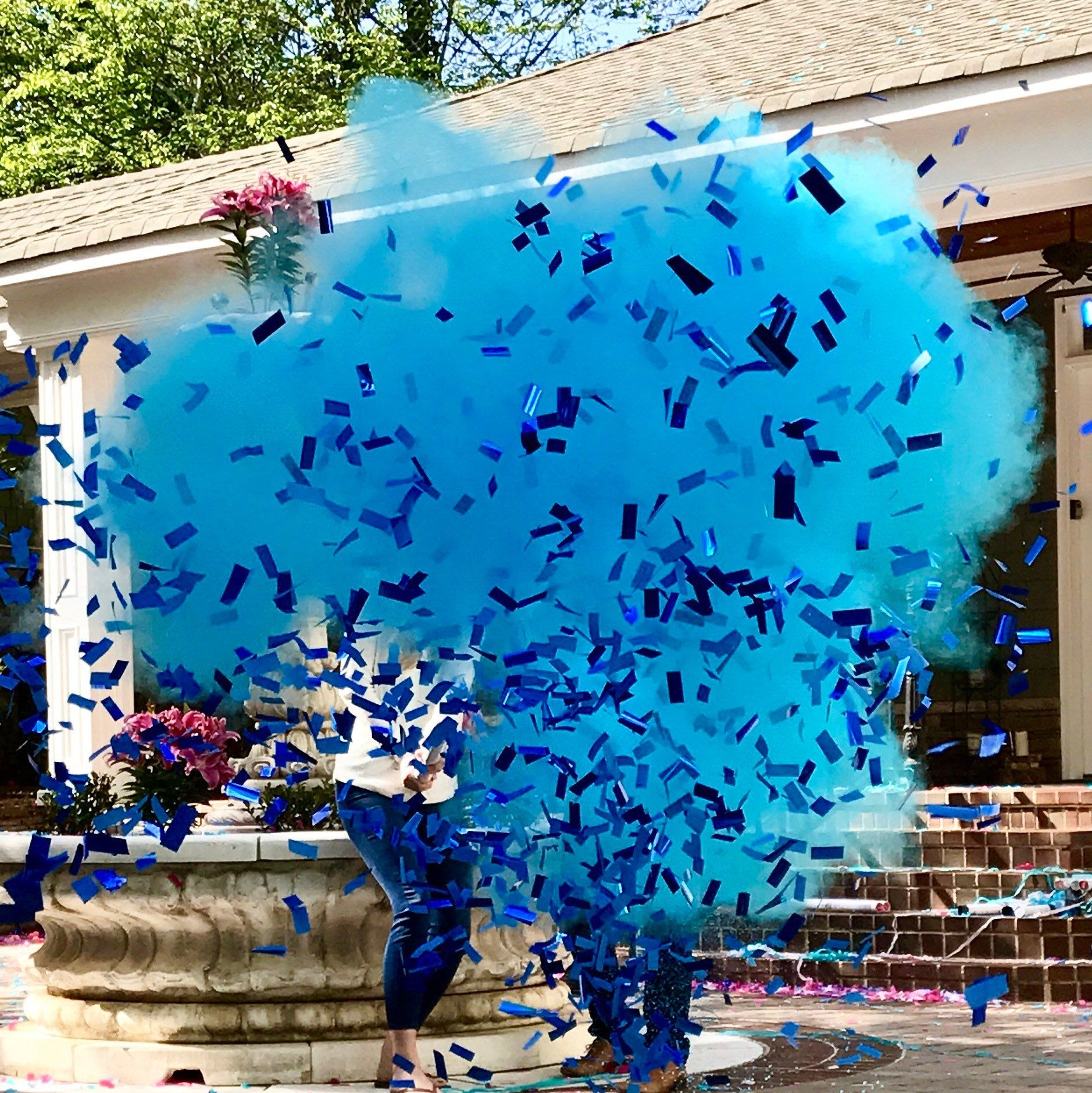 7. Cotton Candy Clouds 
Rent a cotton candy machine and let all the guests pick their guesses—pink or blue cotton candy. Not only does it add a sweet touch to your party, but it also doubles as a delightful treat.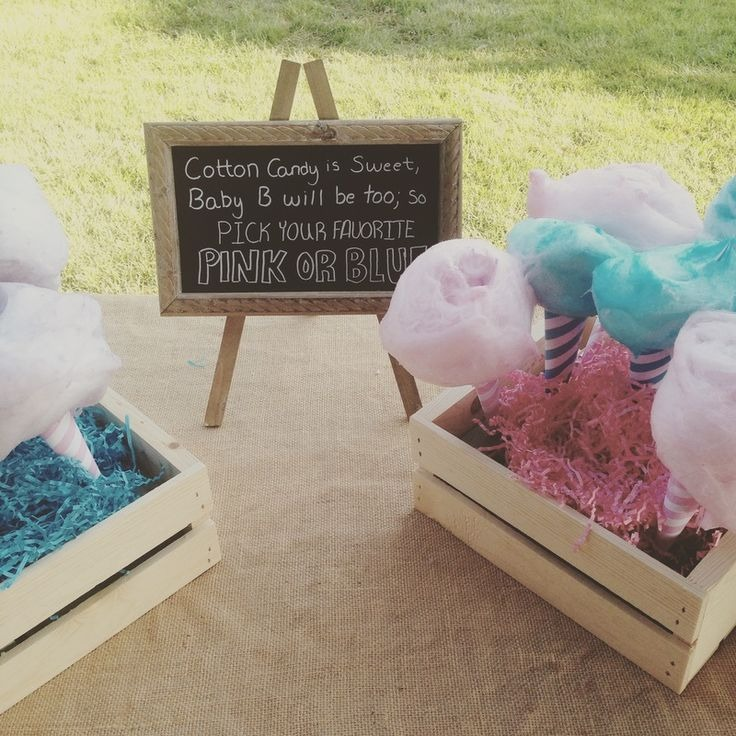 8. Balloon Box Surprise 
Decorate a large box and fill it with helium pink or blue balloons. When the box is opened, the balloons will float up to the sky, revealing the gender visually stunningly.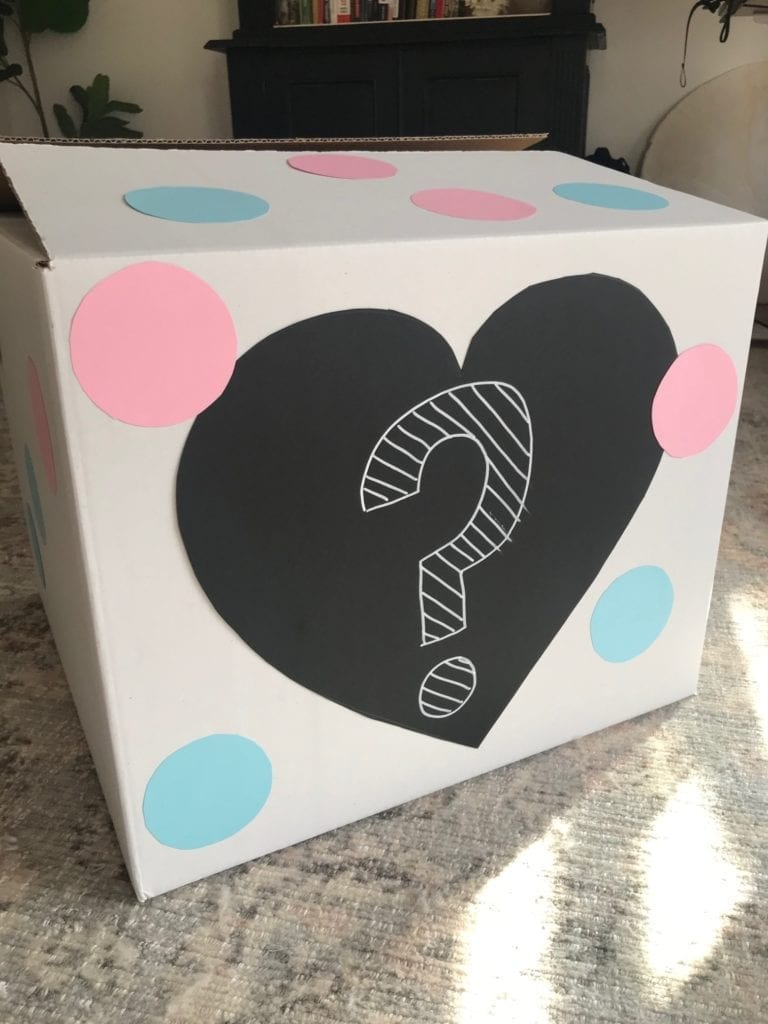 9. Color Fight Powder Party
Turn your gender reveal into a vibrant color fight. Give your guests packets of non-toxic color powder in pink and blue, and at the right moment, let everyone go wild. It's messy, it's fun, and it's a joyous way to celebrate. Also, you can integrate it as one of your gender reveal games.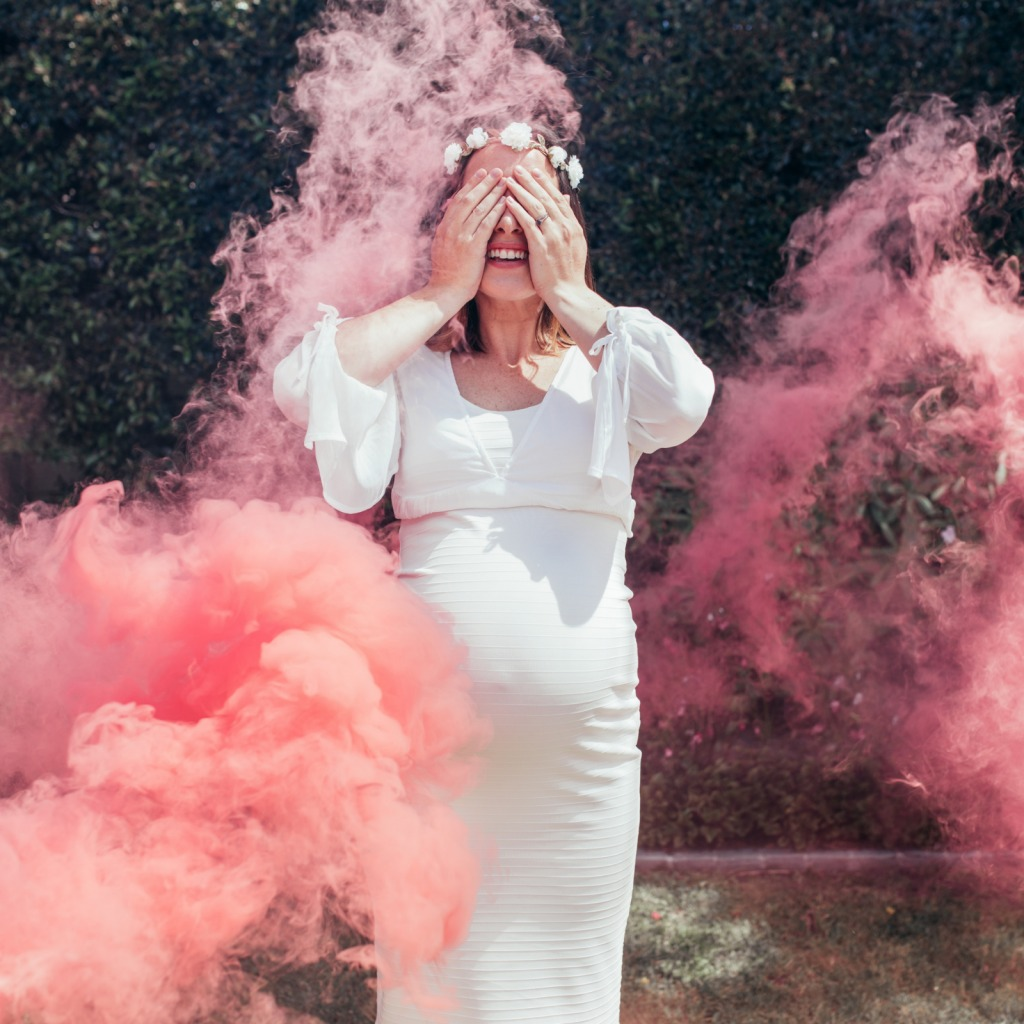 10.  Scratch-Off Cards
For a more intimate and suspenseful reveal, use gender reveal scratch-off card. It's like a mini-lottery where everyone wins the joy of discovering your baby's gender.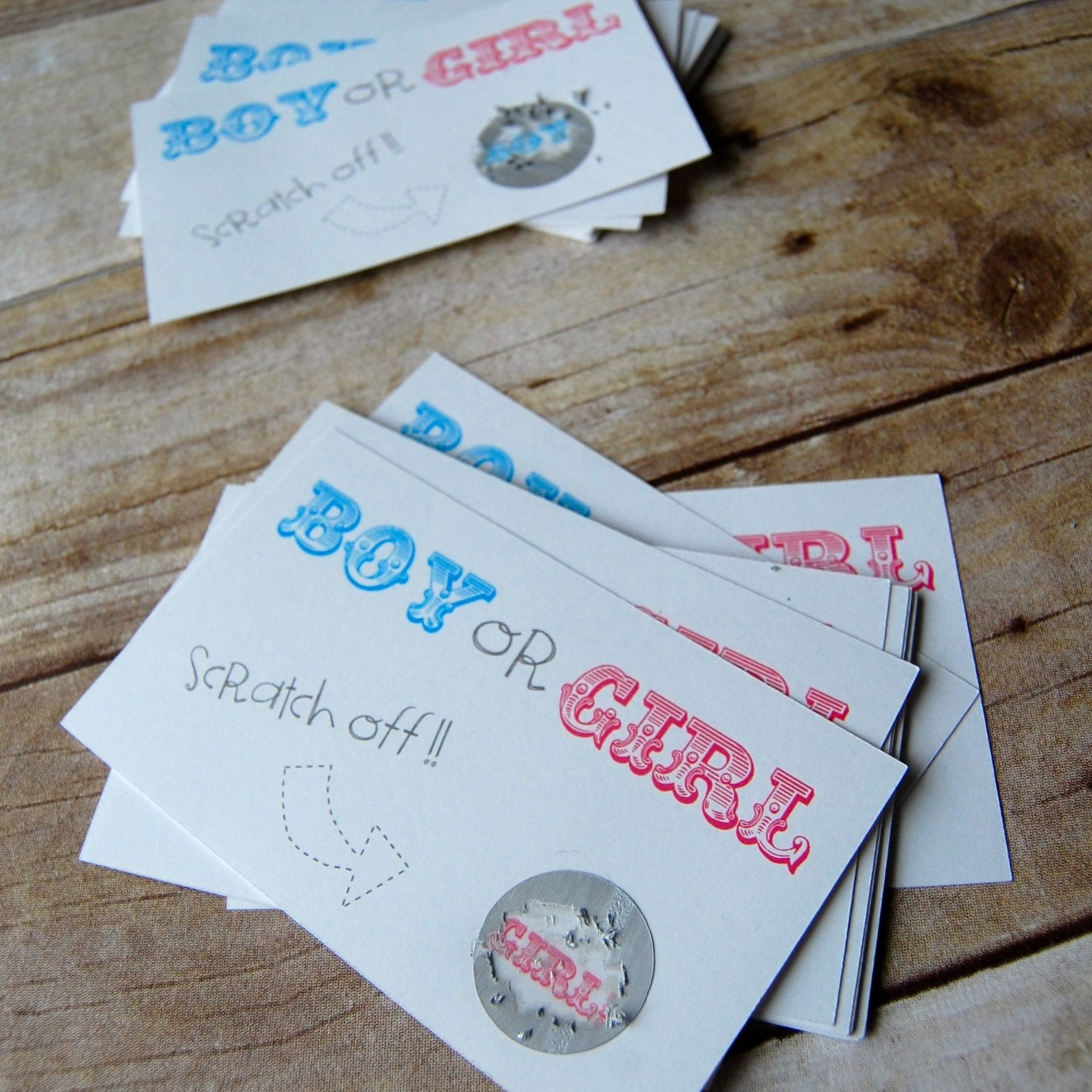 When Should You Host a Gender Reveal Party?
Deciding when to host your gender reveal party is essential to your planning process. Typically, the sweet spot for these celebrations falls within the second trimester, often after the 20-week ultrasound. This period is chosen for several reasons: it's usually when the baby's gender can be accurately determined, and it's a comfortable time for expectant mothers to enjoy the festivities.
Hosting the party before the baby shower allows a separate focus on each significant event in your journey to parenthood. This timing also gives you and your guests enough space to prepare and partake in both celebrations without feeling overwhelmed.
This is perfect for real heart-to-heart time with your friends and family. You're not counting down days; you're stepping into a new, exciting chapter.
And hey, isn't it just amazing to have your favorite people around, all buzzing with excitement and joy, just like you? It's all about embracing these precious moments together. But remember, girl, the best timing for your baby's gender reveal party is whenever you feel most comfortable and happy. After all, it's your special journey, your rules!
How Much Will a Baby Gender Reveal Party Cost?
Crafting the perfect gender reveal party requires thoughtful budgeting, which can vary greatly depending on your preferences and plans. Expenses can be minimal for those who lean towards simplicity or are keen on DIY. Homemade decorations, self-catered food, and creative home-based games can keep your budget within a modest range.
However, the costs can escalate if you envision something more extravagant. For instance, professional catering services can significantly raise your budget.
In the U.S., catering for a small to medium-sized gender reveal party might start from around $100. Still, it can easily exceed $1000 for more significant, upscale events.
If you opt for a restaurant setting, be prepared for at least an additional $100 to cover the cost of meals and themed desserts.
The centerpiece of the party, the gender reveal cake, can also vary in price. A small, simple cake might cost as little as $15, but prices can soar into the thousands if you're looking for a giant, custom-designed cake.
Venue rental is another factor to consider. While hosting at home or in a public park can be cost-effective, renting a space, especially at high-end locations or hotels, can range from a few hundred to several thousand dollars.
Also, let's talk about the fun stuff – decorations (think $50 to $500), cool activities (budget-friendly to splurge-worthy up to $500), and those cute invites (free to about $100). But hey, let's not forget what this bash is really about. It's the thrill of the reveal, the giggles and gasps when you share the big news – that's where the real magic is, not in how much you spend.
Whether going all out or keeping it cozy, your baby gender reveal party will be one of those golden memories you'll cherish forever!
Why Choose a Gender Reveal Party?
A baby gender reveal party it's more than just spilling the beans on whether you're team pink or blue. This vibrant, heartwarming bash brings together your whole squad – your family, friends, and tribe. It's about sharing that incredible buzz of what's coming – a new life!
And this get-together? It's the perfect time to tighten those family ties, make some unforgettable memories, and soak up all the love and support your crew has to offer. It's not just about popping balloons or cutting cakes to reveal a color; it's about that shared rush of emotion, that collective 'wow' moment that brings everyone closer. It's laughter, hugs, maybe a few happy tears, and much love.
As you enter this new chapter of your life, a gender reveal party becomes a cherished milestone, a joyful prelude to the fantastic journey of parenthood ahead."
Where to Find the Best Supplies for Your Gender Reveal Party?
For the perfect gender reveal party, begin your quest at well-known party supply stores or online retailers. These places often have gender reveal-specific decorations, including vibrant balloons, exciting confetti cannons, and beautifully crafted reveal cakes.
For those who love adding a personal touch, local craft stores are a goldmine for DIY decoration materials, offering everything from colorful papers to unique adornments. In the U.S., department stores like Target, Walmart, and Party City are fantastic options for finding a comprehensive range of supplies. They offer convenience and variety, ensuring you have everything you need to make your celebration a dazzling success.
Conclusion: Embracing the Joy of Your Gender Reveal Party
No matter how you reveal your baby's gender, the most important thing is to celebrate this special moment in a way that feels right for you. Whether a grand affair or a cozy gathering, your gender reveal party is a beautiful way to share your joy and excitement with the people you love.
Remember, at the end of the day, the best reveal comes from the heart, filled with love, joy, and the anticipation of meeting your little one.